Custom Website Design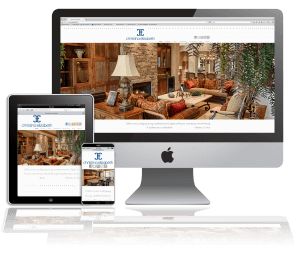 Whether your company is looking for a small internet presence, shopping cart / e-commerce, landing pages, content management or a large scale website design, Gettingraphic can assist you with all of your website needs. Our websites are all built using HTML5 and CSS for a responsive design. All designs are Gettingraphic originals so you know you are receiving a unique design specific to your brand. We work with you to understand your business and marketing goals, then we take the time to strategically plan your website design based on those goals.
Why you need a professional website.
A website is another vital component of your brand identity.  In this day in age, individuals are conducting their research on the web and an online presence is crucial to a company's marketing strategy and credibility.  Websites are capable of selling your product or services 24 hours a day.  With all the potential exposure your company can receive via the web, you want your online identity to accurately depict your company and brand.  A professional website should be contain relevant information, be functional, easy to navigate, clean, and visually pleasing.  Failure to incorporate these elements into your design, could result in a user leaving your site for that of another company's.
Easy navigation
Gettingraphic believes that a website with clean navigation will keep your clients on your webpages longer potentially resulting in more sales, or leads for your company. If the client is unable to find what they are looking for in the first viewing of the site, they are going to move to another website. The goal of your navigation is to direct people into the site, encourage them to read more, view more products, or contact you for more information.
E-commerce
At Gettingraphic we design your e-commerce website to blend seamlessly with the rest of your website. We use an easy-to-use interface that makes running your online store a breeze.
Content management
If you are looking for a content management system like WordPress for your website, Gettingraphic works with the WordPress platform to create a simple-to-use management system with endless possibilities.
Visit our Website Design Portfolio or call 480.585.2196 for a quote on your website needs.